Today I found out something that I found out years ago, if you like me need to use multiple SQL servers but can't remember things by IP address or would prefer not having to type login information every time you want to connect then use registered servers.
Registered servers allow you to easily check if a server is running, create groups of servers, use user-friendly names for your servers, and import/export your registered server groups.
To view and add a registered server, start up SQL Server Management Studio go to View > Registered Servers. Then in the Registered Servers pane, right-click Local Server Groups and click New Server Registration. Alternatively if you already have them open right now you can just right click the instance and select register then enter your friendly name… super easy!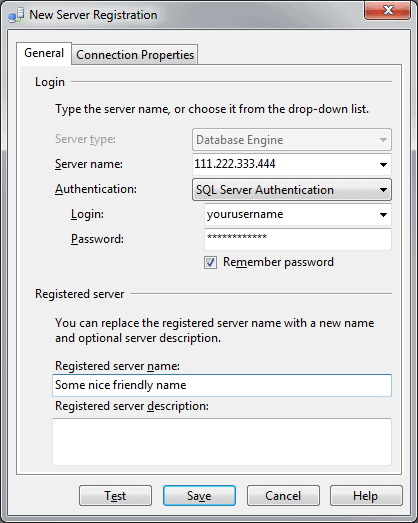 Then just enter the server name, select the authentication, key in the User name and Password if necessary, and check Remember password.
Now each time you start up SQL Server Management Studio, your registered servers will be viewable in the Registered Servers pane. Simply double-click the server you wish to navigate and that server will be opened within the Object Explorer.
Now I need to find out how to make this the default view when opening SSMS..