I took a couple of my old phones (E71 and k800i) on holiday to sell them but that didn't happen so was looking to try one of those phone recycling by post companies here in the UK last week, I was about to pop down the post office with my jiffy bag full of phones last week to send them off to "Phone Recycle Bank" (found via moneysavingexpert.com) who had the highest payouts, but decided to google them for reviews where I found really bad writeups from people who had either had their phones lost or the company said the phone was not working and paid out less money.
So I did a bit more research and remembered all the mazuma mobiles ads on TV… googled their customer experiences instead where the ratings were far more positive so decided to go with them.
You start on the Mazuma website by entering the phone models  you want to sell and they give you the price they are prepared to pay, which was lower than "Phone Recycle Bank" but at least the phones don't get lost or you offered less than you thought you were going to get. Then you wack in your address, make a username and a password so they can post you a prepaid bag to send your phones to them in with a delivery note already created.






After two days the envelope arrived, I popped the phones and note in then went off to the post office to get a FREE proof of postage which was just a sticker and a receipt.






The proof of postage give you free insurance up to the value of £41 if your package does not get to mazuma, so off went the phones…
I expected to get no feedback for 2-3 days however the next morning I got an email saying the phone had been received for processing.






And sure enough later the same day (just the say after putting the phones in the post office I got the payment is on it's way email.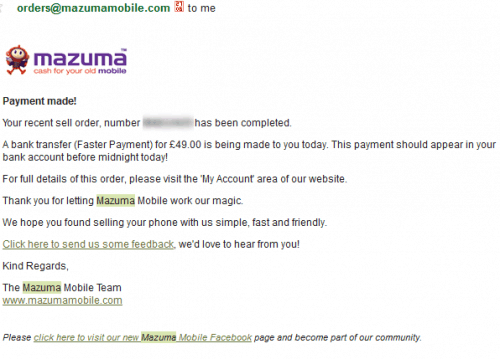 Day 3 (today) I checked the bank account and sure enough there was £49 from Mazuma… I'm very impressed, now rather than cluttering up one of our brand new IKEA cupboards they turned into cash!.