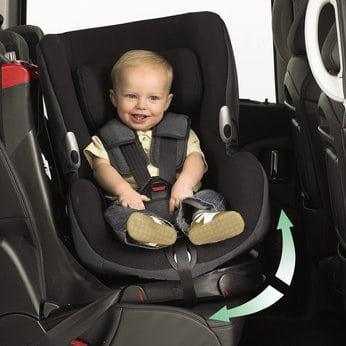 We decided last week that the Maxi-Cosi Axiss was the one to get, but it was out of stock everywhere that had a remotely decent price on it (generally retails  around £210). So today we popped into Mothercare to order one for delivery, turns out you can't even do that!
In the week the manager of that branch of Mothercare offered me 10% discount for the one on display which is in perfect condition – I told him I had a voucher for 10% off anyway – he wouldn't go the extra mile and make it a 20% discount so we had no deal.
Today however we were more persuasive and he caved in – so with the £25 gift card our friend Anu gave us – and the £170 price the manager agreed to we got the seat we wanted there and then – fitted for us – for the far more reasonable cost of £145. It's a great char too, the chair turns on the base when you pull a lever on either side so your child can face the door while you strap them in, then with a turn of the chair they are facing forward ready to go.
A very smart design they most likely have patented.
Kiddicare have them in stock for delivery, get your child a maxi-cosi axiss car seat now and make putting them in and out of the car a breeze, and back ache a thing of the past.